Global Poker
Bonus Code and Review June 2023
Get 150,000 Gold Coins for $10
+ 30 FREE Sweeps Coins With Bonus Code FLUSH
Game Variety and Depth
4.5
Purchase and Redemption
4.0
California lags behind many other US states when it comes to online gambling. In the absence of real-money online poker, the promotional sweepstakes poker site, Global Poker, represents a refuge for CA online poker lovers.
Is Global Poker Legal in California?
Yes — unlike California sports betting.
There is no app, but poker players can play Global Poker on desktop via Mac iOS or Windows.
Players can enjoy casual poker games on a stable website with the possibility of eventually redeeming winnings for cash prizes. In this Global Poker review, we'll delve into everything you need to know about playing Global Poker in California. You'll also get access to our exclusive Global Poker bonus code and welcome offer.
Big Bonus
Banking Options
Available on Mobile
Global Poker is legal in California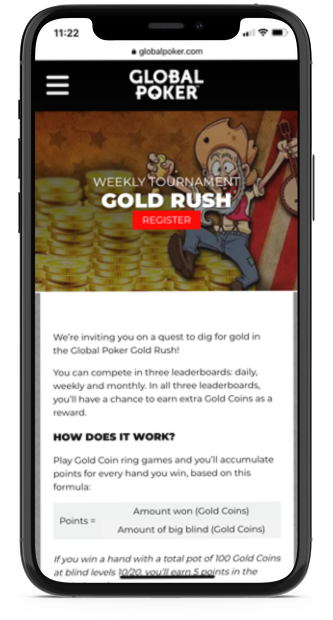 Global Poker Bonus Code June 2023: FLUSH
Using our exclusive Global Poker bonus code FLUSH in 2023, players will get 150,000 Gold Coins for $10, plus 30 FREE Sweeps Coins when they sign up.
Additionally, players can also get an extra 40 FREE SC and 200,000 GC with a $20 purchase. You don't need a promo code for this offer.
Notably, you do need to spend $20 and $10 to receive the full bonuses. If you spend less, you won't get the total bonus amount. However, you can also spend more and still take advantage of the bonus if you want to purchase tons of Gold Coins for future playing.
| | |
| --- | --- |
| Global Poker Bonus Code | FLUSH |
| Global Poker FREE Sweeps Coins | 150,000 Gold Coins for $10 + 30 FREE Sweeps Coins |
| Extra Purchase Bonus | 200,000 Gold Coins for $20 + 40 FREE Sweeps Coins |
| What States Allow Global Poker ️ | All US states, except Washington (Idaho allows GC play) |
| Bonus Code Verified for ✔️ | June 2023 |
Global Poker Bonus Code for Existing Players
Global Poker has ongoing promotions for its loyal players, too.
Daily login bonus — Players get FREE GC and FREE SC every day they log in. On the first day, they get 1,000 FREE GC and 0.25 FREE SC. The next day, it's 1,100 GC and 0.25 SC, then 1,200 GC and 0.25 SC, then 1,300 GC and 0.25 SC. On the fifth straight day, players get 1,400 free GC and 0.55 free SC. On the sixth day, it's 1,500 GC and 0.55 SC. Then, on the seventh straight login, players get 2,500 FREE GC and 1 FREE SC.
Free Jackpot Sit'n'Go entries — When players make a $10 GC purchase, they get 7 FREE SC as well as four free Jackpot Sit'n'Go entries, which can ultimately be very valuable.
Discount gift cards — Cash prizes are great, but Global Poker makes it hard to not consider redeeming for gift cards instead. You can get up to a 20% discount when redeeming SC for gift cards, meaning you may only need 40 SC for a $50 gift card to your favorite retailer.
Mail-in offers for Sweeps Coins — You can also mail in a request for FREE Sweeps Coins. Check the Global Poker terms and conditions for details.
Global Poker Pros and Cons
Pros
✅ Offers a variety of different ways to play poker, including free poker for pure fun-seekers.
✅ It's the only legal online poker room in California.
✅ Players can play no-limit Texas hold'em, pot-limit Omaha hold'em, fixed-limit Texas hold'em, and Crazy Pineapple.
Cons
There is no mobile app.
No live customer support.
As with all online poker sites and apps, your experience will depend on traffic levels and your specific game preferences.
Global Poker doesn't provide a wide variety of poker games like California card rooms, but this is actually a plus as it funnels traffic toward a few key game types. This theoretically keeps game populations from becoming too low and makes it easier to find a game no matter the hour.
Global Poker has also recently added slot machines and table games, including blackjack and Caribbean poker.
How to Register for Global Poker
This is an easy process.
First, use our bonus code to direct you to the Global Poker website and claim your welcome offer.
Then, simply fill out an online form with the following information:

First name
Last name
E-mail address
Name
Address
Date of birth
How to Get Global Poker FREE Sweeps Coins
There are a few easy ways to get FREE Sweeps Coins at Global Poker.
Use our Global Poker promo code to make your first purchase and get your 30 FREE SC.
Take advantage of the secondary welcome offer to get 40 more FREE SC.
Get extra FREE SC rewards with certain Gold Coin purchases.
Win social media giveaways on the Global Poker Facebook page.
You may be required to share a certain post or answer several game-related questions for these no-contest giveaways.
Mail in a request directly to Global Poker.
You must use obtain a postal request code click Get Coins, then Play for Free, and you'll see a button to request your code. You must have already verified your account to get the code. Use this mailing address:

VGW Games Limited




Global Poker Sweepstakes Department




PO Box #8486




Portsmouth, NH 03801
 Daily login bonus gets you FREE SC each day just for logging in.
Click Get Coins, then click your day (Day 1, Day 2, etc.) at the bottom of the window to claim your daily bonus. You must have already verified your account to receive the daily login bonus.
Site Traffic
In reality, you can normally find anywhere between 300-1,000 active players during the day on most days of the week. As you might expect, traffic tends to spike toward the evening in the western hemisphere and remains higher during the weekend. Additionally, traffic was anecdotally higher for ourselves and according to other reviews of the site during the COVID-19 lockdowns.
The big thing to take away from this, and what you'll see in most Global Poker reviews, is that Global Poker has a pretty consistent player base, and finding a new game is never too difficult. There are definitely better times than others for playing. For example, your game selection may be limited if you try to find some poker action on a Monday in the middle of the workday.
However, if you want to join a game during evenings, the weekends, or during a tournament, you shouldn't have much trouble.
Player Skill Level and Global Poker Tournaments
In terms of skill level, you'll mostly find beginners rather than intermediate players or experts. While it's not uncommon to run into a very lucky or very skilled player from time to time, most of your opponents will only have a little understanding of the game.
Casuals dominate the player pool by far. Since Global Poker uses the legal California gambling age of 18, you'll probably play against a good amount of novices.
During tournaments, expect the challenge to increase a bit, as there are cash prizes at stake. Many of the Sit'N'Go tournaments have beginner players that are easier for poker enthusiasts to beat. These players are likely trying out Global Poker for the first time.
You can find four types of poker on Global Poker: no-limit and fixed-limit Texas hold'em, pot-limit Omaha hold'em, and something it calls Crazy Pineapple. Basically, the first three are the staple poker variations you can find at virtually any of the Indian casinos in California.
Global Poker provides tables with seats for 6-9 players, but you can play head-to-head poker games too. Buy-ins can range from around as low as SC 0.25 or GC 550 to as high as SC 218 or GC 110,000. Some of the redeemable SC winnings can lead to cash prizes that are pretty large.
We did notice that the low stakes games are usually more popular and are filled much more quickly. This is likely because most people play Global Poker for their love of poker rather than for their love of money. For that reason, they target the low-stakes games for more laid-back action.
Ring Games, Tournaments, Sit'n'Go
Global Poker also offers Ring Games (same as real-money poker cash games), Sit'n'Go (S&Gs), Jackpot S&Gs (JSNG), and multi-table poker tournaments (MTT), similar to real-money poker tournaments in California. Multi-table tournaments are available for no-limit hold'em and pot-limit Omaha.
The S&Gs here are available at two tables that seat 6-9 players, meaning you can get up to 18 players. You can usually get into these for as low as 0.5 SC for no-limit Texas hold'em, and the tournaments tend to start pretty quickly so you won't be sitting around for too long.
Most S&Gs will have 6-18 players, but you can also set up a two-player, head-to-head S&G.
Pot-limit Omaha hold'em S&Gs have a six-player maximum, and entry prices are usually as low as 1 SC.
High-stakes Sit'n'Gos tend to take some time to fill appropriately. Between the two, the hold'em Sit'n'Gos seem to be more popular than their Omaha counterparts.
The MTT are usually offered daily, barring technical issues (which are exceedingly rare). They're available for no-limit and fixed-limit Texas hold'em and pot-limit Omaha hold'em, and they have entries ranging from 0.11 SC to 33 SC. The number of players can vary drastically with Global Poker tournaments, but rarely will there not be enough for a legitimate tournament.
Furthermore, in addition to the promotions and high-stakes Global Poker Championships, Global Poker provides weekly Sunday tournaments with bigger buy-ins and significant prize pools. Some examples:
Sunday Blitz, with 218 SC entries and 30,000 SC guaranteed prizes
Sunday Teaser, with 110 SC entries and 25,000 SC guaranteed prizes
Sunday Eleven, with 11 SC entries and 10,000 SC guaranteed prizes
There are also several satellite tournaments that run throughout the week to direct attention to these big Sunday events. The great news for any poker enthusiast is that the skill level of these tournaments tends to be relatively low. Players with some skill and plenty of luck have a good chance of consistently winning the above prizes.
In addition, Global Poker sometimes offers unique weeklong or monthlong promotions. The current promotion is:
Grizzly Games VI (Jan. 30-Feb. 19)

800,000,000 GC and 1,834,000 SC in guarantees
216 trophy events over 21 days
Main Events: GC30,000,000 and SC200,000 guaranteed
Players get a boosted Day 7 login bonus
A wide range of merchandise for prizes
Slot Machines and Table Games
Recently, Global Poker has also started offering slot machines and table games.
It just added more slot machine options for 38 total offerings. It also has four table game varieties to choose from (blackjack, premium blackjack, Caribbean poker, and casino hold'em).
Global Poker has four progressive jackpot games:
The Last Empress
Western Gold
The Big GoREELa
Duskmoon Faire Jackpot
No longer is Global Poker just for poker players. It now offers the full social online casino experience.
Ever since Global Poker changed its payment methods to allow for debit cards and bank account linking, payment has never been easier. You can now use Visa, MasterCard, Skrill e-wallet, or bank transfer depending on your preferences.
How to Cash Out on Global Poker
You can't cash out at Global Poker, because that would imply you're withdrawing money — which you can't do at Global Poker.
You can, however, redeem your Sweeps Coins for cash prizes by linking a bank account. Fortunately, the process required to verify your identity is fairly simple and normally takes less than a day for your cash prize to be sent on its way. You will need to provide your address and verify information via email for your first redemption.
The requirement that you have at least 50 SC before redemption is fairly commonplace among promotional sweepstakes sites. It's a bit of a bummer if you want to redeem a smaller prize, but it's not a dealbreaker in our eyes. If Global Poker lowered this amount to around 20 or 30 SC, it would be an even better experience.
Global Poker Verification
In order to redeem your SC for cash prizes, Global Poker will need to verify your identity. You will need three documents:
A valid primary photo ID (driver's license, passport, state ID, government-issued ID, etc.)
Proof of address (utility bill, medical insurance, driver's license, lease agreement form, etc.)
Source of funds or source of wealth document (bank statement, pay slip)
Once these documents get submitted, Global Poker is usually pretty good about approving you within 24 hours. This may feel like a lengthy process, but it will make you feel more secure using the site.
Global Poker Purchase Offers
These are the GC purchase offers currently available at Global Poker:
10,000 GC for $2
25,000 GC for $5 + FREE 4 SC
50,000 GC for $10 + FREE 7 SC + 4 FREE JSNG entries
50,000 GC for $10 + FREE 9 SC
100,000 GC for $20 + FREE 20 SC (most popular)
250,000 GC for $50 + FREE 51 SC (most popular)
500,000 GC for $100 + FREE 102 SC
1,550,000 GC for $300 + FREE 306 SC
2,600,000 GC for $500 + FREE 515 SC
Is Global Poker Rigged?
No, not at all. Global Poker operates the same as any real-money online poker site.
In order to make money, Global Poker has a 5% rake that applies to both types of digital coins. The rake for the Gold Coins essentially acts as a kind of inflation reducer, preventing too many Gold Coins from being used at once and progressively requiring players to purchase more Gold Coins to keep using the site.
Every game on Global Poker has its own rake cap, the amount of which is determined by how many players are seated at a given table. Caps begin at 1 SC and end at 5.50 SC.
Compared to other online poker sites, this is a manageable rake amount — most other Global Poker reviews will tell you this, too.
PokerStars, for example, uses a linear rake system of anywhere from 3.5% up to 4.5% depending on the game and the number of players. They also have a relatively high tournament rake between 6% and 10% of the total tournament entry.
Meanwhile, PartyPoker has a rake system that's proportional depending on the size of the pot. For instance, it might take $0.01 for a $0.20 pot or $1 for a $100 pot. They also have a much higher tournament rake range of up to 20% of the entry limit.
Seen in this light, Global Poker's rake stays the same regardless of whether it's a regular game or tournament. We like this for its simplicity.
Global Poker Download
Unlike several other online poker sites and apps, Global Poker doesn't use a mobile app. Instead, all players join the browser-based social poker site regardless of whether they visit on a desktop or a mobile device. As a result, mobile players have a slightly less fine-tuned experience compared to their desktop or laptop counterparts.
That said, the Global Poker site is pretty smooth and is virtually bug-free. Lag time isn't an issue. Furthermore, Global Poker can also be played from a mobile-specific browser. This eliminates some of the graphical issues you sometimes run into when visiting a desktop-designed site.
The interface itself is intuitive. You can visit the different types of games using a few major tabs, and you can even sort through different games by stakes. Finding a game around your price range is easy. While there aren't any particularly fancy graphics, this is actually a benefit for site consistency and loading time.
Global Poker does offer support to its players — you can submit a ticket to [email protected]. The unfortunate part is that this is the only way to get in touch with their customer support team. There isn't a 24/7 live chat or anything similar for instantaneous assistance.
Still, they promise to respond to every complaint within 12 hours. This may be a bit too long if you have an issue with a cash prize discrepancy or something similar. However, our experience submitting a test ticket showed a response within just a couple of hours, so it's likely that most issues get dealt with before this deadline.
The site categorizes its support in 13 areas: Support for general issues, report a technical issue, report a player, support for purchases, verification queries, submit your bank details, prize redemption concerns, dispute a transaction, leave feedback, customer service complaints/escalations, responsible social gameplay tools, request support, and close my account.
Furthermore, Global Poker has an extensive FAQs page with more than 1,300 words answering basically every question you can think of, including "Are there purchase limits on Global Poker?" and much more.
Who Should Try Global Poker?
Global Poker is a California social poker site that's legal in nearly every US state. It offers most major poker game variations as well as daily and weekly tournaments. Players are typically at the beginner or intermediate skill level, so it's mostly a site for casual poker play rather than serious competition between experts.
It's a great online poker alternative if your state, like California, doesn't allow real-money online poker at all. And using our Global Poker bonus code 2023 FLUSH will get you 30 FREE SC start off, which is a lucrative welcome bonus compared to sweepstakes industry standards.
(Especially if you take advantage of the secondary purchase offer for 40 more FREE SC.)
On the downside, you might notice a lack of variety in the available games. The website also doesn't come with a dedicated mobile app. However, with a stable player base, it's perhaps the best choice for poker hobbyists. 
What Are the Purchase Bonuses at Global Poker?
We covered the two welcome purchase bonuses earlier in this review, but they're worth repeating:
When using our Global Poker bonus code FLUSH, you can get 150,000 GC for $10 plus 30 FREE SC. Then — and this doesn't require a promo code — you can also get 200,000 GC and 40 FREE SC for a $20 purchase.
How Does Global Poker Work?
Global Poker is legal and operates within California and other US states with the same legality as other legal California online casino sites. In a nutshell, a promotional sweepstakes website doesn't allow players to put real money on the line. Instead, Global Poker offers two digital coin options:
Gold Coins. For instance, you can spend $20 on a Gold Coin purchase to acquire Gold Coins. You use these tokens to play in Gold Coins poker games in place of real money.
Sweeps Coins. Unlike Gold Coins, Sweeps Coins cannot be purchased directly. They are awarded as bonuses when you purchase Gold Coins. You can also sometimes win additional Sweeps Coins through promotions or bonuses. You use Sweeps Coins as the tokens for Sweeps Coin games in place of real money.
Because both of these digital coin varieties do not have real-world value, playing poker with them does not violate anti-gambling legislation in California. Imagine it as similar to playing with tickets at an arcade that you later trade-in for a prize.
However, although Gold Coins aren't worth anything, you can redeem Sweeps Coins for cash prizes from Global Poker. You accumulate Sweeps Coins by winning Sweeps Coin poker games.
For Ring Games (where poker enthusiasts play with Sweeps Coins), games can run from 0.05/0.10 Sweeps Coins up to around 10/20 Sweeps Coins. You cannot combine different coin varieties. The Gold Coins poker games only allow you to play with Gold Coins while Ring Games only allow you to play with Sweeps Coins.
How Do Purchases Work at Global Poker?
You cannot purchase Sweeps Coins directly at Global Poker for any other promotional sweepstakes site that legally operates in the US. Instead, players can purchase Gold Coins, which may include bonus FREE Sweeps Coins, for anywhere between $5 and $2,000.
After players sign up for Global Poker, they have a few options for payment. The site once offered PayPal but discontinued in 2018. Currently, Global Poker allows purchases through either Visa or MasterCard credit/debit cards.
Players can also use a direct bank transfer to Global Poker, although the balance won't be available until the next business day. The Skrill e-wallet is another accepted method of payment.
Is Global Poker Real Money?
Not quite. You don't play using real money in Global Poker, so it's not considered a real-money platform.
But you can still redeem your winnings for cash prizes.
Cash prizes are redeemable as soon as you have at least 50 Sweeps Coins in your bankroll. Once you reach this amount, you can request a redemption from Global Poker. You can receive your cash prizes via linking a bank account to your Global Poker wallet.
Furthermore, Global Poker requires that you confirm some personal information when you order your first redemption of Sweeps Coins. You'll need to submit scans of both a driver's license or another government-issued ID and proof of your residential address. In the latter case, a recent bill is normally acceptable.
Is Global Poker Legit?
Yes, completely. While many states in the US don't allow online gambling, promotional sweepstakes sites like Global Poker don't actually offer gambling as defined by the law.
In most states, and according to the federal definition, gambling requires that players wager real money on a game of chance. Thus, games of skill and games of chance that don't deal with real money are excluded from these regulations.
Promotional sweepstakes sites are the latter type. Because both digital tokens you can find on Global Poker aren't equivalent to real-world cash, no laws are broken by playing with either type of coin.
Can I Trust Global Poker to Pay My Winnings?
Yes. Global Poker is regulated by the Malta Gaming Authority, one of the largest organizations for regulating promotional sweepstakes promotions and prizes. As a result, they're a convenient resource to contact if you ever suspect that there's an issue with your Sweeps Coins or prizes.
Can I win real money at Global Poker?
No. Since you don't wager with real money, you technically can't win real money at Global Poker. However, you can do something similar. Global Poker, and all other social casino sites, use the promotional sweepstakes model. That means it has players play with fake digital tokens. Once they accumulate enough of one type of token, they can redeem those tokens for cash prizes.
So, can you win real money? No. Can you wind up with cash prizes? Yes.
How long does Global Poker take to cash out?
On its site, Global Poker says it may take 5-10 days before you see your winnings in your linked bank account or Skrill. However, it also says to contact customer service if you don't get your money after 5 days.
How do you redeem Sweeps Coins on Global Poker?
Once you have accumulated at least 50 Sweeps Coins, simply access the Global Poker store, click the "Redeem Prize" tab, verify your account if you haven't already, and then decide if you want to redeem your winnings as a gift card or as cash. Once you select an option and submit your request, it could take up to 5 business days to receive your winnings.
Who owns Global Poker?
VGW Games. It also owns Chumba Casino and LuckyLand Slots. It is located in Malta, and its address is: Trident Park, Notabile Gardens, No. 6, Level 3, Central Business District, Mdina Road, Zone 2 Birkirkara, CBD2010, Malta.
How old do I have to be to play Global Poker in California?
The legal gambling age in California is 18. You must be 18 or older to play Global Poker in California.
Do I have to make a purchase to play at Global Poker?
Not if you don't want to. Global Poker gives players free Gold Coins just for logging in every day, so you never actually need to spend money to play. However, if you use our Global Poker bonus code FLUSH, you can get 30 FREE Sweeps Coins for a $10 GC purchase when you sign up. You can also get more SC when purchasing other GC offers in the future.
It all depends on how you want to play.
Will people who like online poker enjoy sweepstakes poker?
Yes. Global Poker offers an easy-to-use interface and the main types of poker you'd expect. However, those who like online poker purely for the potential to win big will want to look elsewhere much of the time, as you can't win real money consistently through the sweepstakes model.
What is the best time to play Global Poker in California?
The ideal time is around 3-6 p.m. California time, as these hours are when the Western hemisphere, as a whole, is off work and relaxing at home. Weekend days also typically produce more players since more folks are off from work.
Does Global Poker have an iOS or Android app?
No. Global Poker doesn't have an app, as all players must use the base site. However, the site is optimized for mobile use, so it works just the same as a mobile app would.